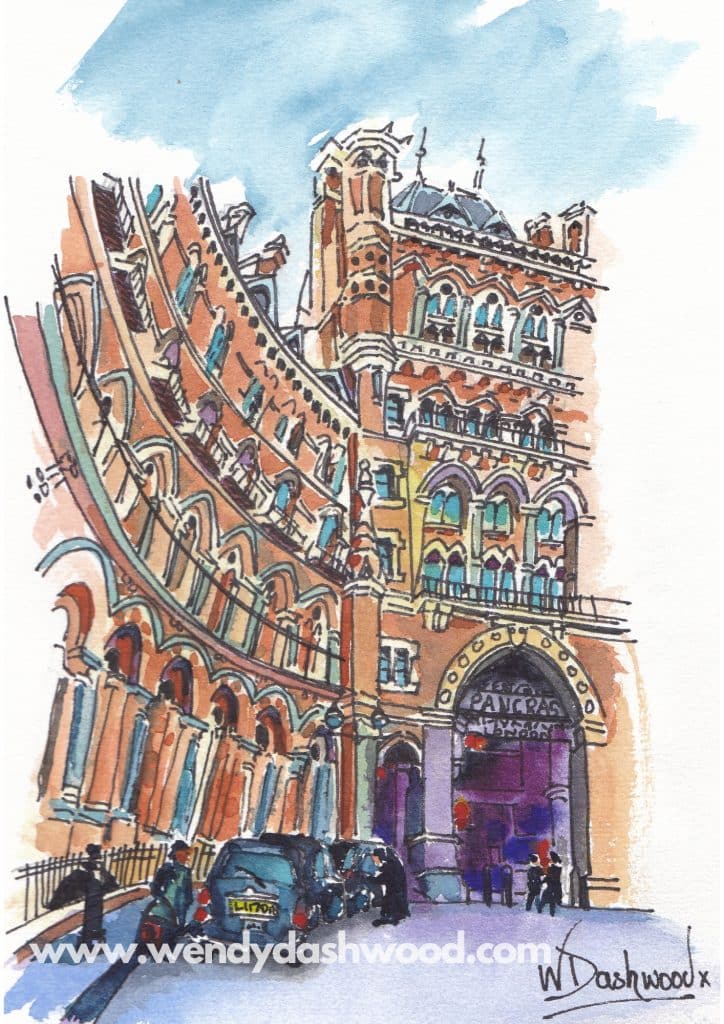 On my 60th Birthday, I spent the day at the British Library. I know, a bit weird, but at the time I was researching Medieval Illuminated manuscripts for a novel I've been writing on and off for 10 years. On the way there we walked past the St Pancras Renaissance Hotel, and I took a photo. It is such a grand and some would say a bit of a folly, but now fully restored to its former glory.
I do love architecture, especially anything pre-1900, or medieval. The thing about this little watercolour painting is the perspective. When I started painting it, I did stop at one point to say to myself…"why the hell did you start this? It's impossible!" How do you paint a curved wall without it looking like it's falling in on itself? I spent hours on the perspective. However, I persevered and although the result is a slightly wonky, quirky painting, that's OK because I love it all the same!
Original Dimensions: 15cm x 21 cm
£345.00 unframed
Medium: Watercolour on paper
A Fine Art Print is now available for this artwork from £19.95
Giclee Printed on Museum Quality Fine Art Matte Paper (280gsm) and includes a 25 mm border to allow for framing.
Prints are carefully packed in plastic free strong cardboard. All print orders include tracking and includes free international shipping. Estimated deliver time is 4-7 days depending on location.